About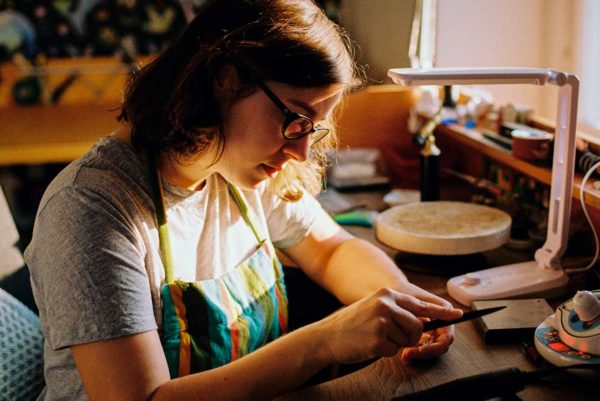 Photo by: Maria Pavlovskaya
My name is Katia Rabey, I am a jewelry designer and your friend. I graduated from Jewelry Design department at Shenkar college of engineering, design and arts (Israel) in 2017 and moved back to Russia the next year. In my previous degree I studied literature, and later I took a short course in illustration, both of those things came back to me as I was exploring my personal language in jewelry. I realized that even when making wearable objects I prefer to tell stories, often using graphic language, with clear shapes and bright colors. I enjoy kinetics and movement and I like when objects have faces, literal or implied. My tools of choice are CAD and a sense of humor, but I also like to work manually both with precious and not-so-precious materials.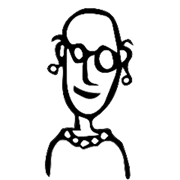 Katia Rabey
b. 1989
Moscow, Russia
EDUCATION
2013 – 2017:
Jewelry Design Department at Shenkar School of Engineering, Design and Art, Ramat Gan. B.Des.
2006 – 2012:
Department of History and Philology at Russian State University for Humanities, Moscow. B.A.
EXHIBITIONS
2022:
Second Breath: The Art of Upcycling. Tsaritsyno Museum, Moscow, Russia ("Второе дыхание. Апсайклинг это искусство", Большой дворец Царицыно, Москва, Россия)
The Earring Show. Craft Council BC, Vancouver, Canada
Material Alchemy: Metal and Color. ATHICA (Athens Institute for Contemporary Arts), Athens, Georgia, USA
A Word After a Word. Baltimore Jewelry Center, USA
Black&White in Color. Exhibition by Adorn Axis at Palm Beach Art Antique & Design Showroom, Lake Worth, Florida, USA.
Jewelry and Literature. Tincal Lab, Porto, Portugal.
2021:
Museum of Self-Isolation. Museum of Moscow, Moscow, Russia.
Brooches. Inache Gallery, Saint Petersburg, Russia.
Double Yellow Line. International Contemporary Jewelry Abour Borders: Political, Geographical, Cultural. 9 March Project at Winzavod Contemporary Art Center, Moscow, Russia.
Jeweler's Games. Saint-Petersburg Toy Museum, Saint-Petersburg, Russia.
2020:
9 March Project: an exhibition of contemporary jewelry exploring the subject of feminism and gender stereotypes. Solyanka Gallery, Moscow, Russia / Chelyabinsk Museum of Arts, Chelyabinsk, Russia / Dom Bonnee Gallery, Perm, Russia / Exposition Center of Saint Petersburg Artists Union, Saint Petersburg, Russia
In-School Suspension: an Exhibition of Necklaces and Pendants Tackling Adolescence. A virtual exhibition organized by JV-Collective, Philadelphia, USA.
Show Me Your Rona. A virtual and on-site exhibition organized by TempContemp, Brunwick, Australia.
2019:
Body control, jewellery and fashion on the boundaries of the human body. Museum Arnhem, Arnhem, the Netherlands.
Jewelry Making: Past and Present. Islamic Art Museum, Jerusalem, Israel.
Overreacting: jewelry speaks feminism and gender. Jag Zoeppritz Showroom, Munich, Germany.
2017:
Next Generation Jewellery Talent Contest. Museo del Gioello, Vicenza, Italy.
Not Only Decoration. Handwerk & Design, Munich, Germany.
2015:
Ausgezeichnet – Most Excellent: Heroes, Medals, Decorations. Chemintz, Germany.
AWARDS
2017:
Certificate of Excellence from Arts & Crafts Design Award (2017) Shortlist of WGSN + Arts Thread Future Creator Award Cape Town (2017).
Certificate of Excellence from the Jewelry Department in Shenkar School of Engineering, Design and Art
ישראל אמריקה התרבות קרן) America Israel Cultural Foundation) scholarship.
PUBLICATIONS
2020:
Yunus and Eliza: 10 years together as partners in jewelry. Interview with Yunus Ascott and Eliza Higginbottom, the creators of jewelry in "Game of Thrones". Art Jewelry Forum.
2019:
From a Place of Love: Contemporary Jewelry Speaks Judaism. Klimt02.Net
2018:
The "What If" of Jewelry Design: Critical Design Theory in the Field of Contemporary Jewelry. Art Jewelry Forum.